This content has been written and checked for quality and accuracy by
What are the uses, precautions and side effects of the Drug Fortamet?
The drug Fortamet or Metformin is commonly known as Glucophage. This article discusses in detail the use of Fortamet, the diseases in which the medicine is effective, whether it has any side effects, and is this medicine really effective?
First Line Treatment of Diabetes
Format or Metformin is used as a first-line treatment for Type 2 Diabetes Mellitus. Fortamat is prescribed to persons who havae an early stage type 2 diabetes and are over-weight. But metformin is not just used for treating type 2 diabetes.
The formula used in Fortamet medicine has also remedial effects for treating another disorder known as Polycystic Ovary Syndrome (PCOS). It is also believed that Fortamet is effective for preventing cardiovascular diseases as well as any cancerous complications of type 2 diabetes.
The use of fortamet in the prevention of cancer and cardiovascular diseases is under consideration and very limited evidence of its effectiveness in these ailments is available. If you are suffering from cardiovascular diseases or cancer it is advised not to use this medicine unless prescribed by your physician otherwise.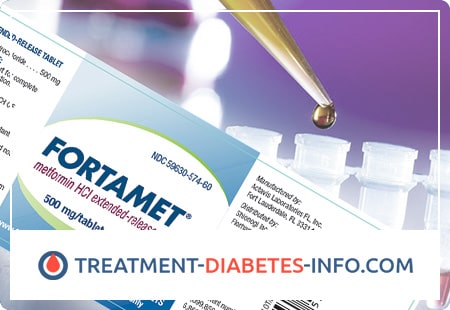 What are the uses of Fortamet?
Fortamet or Glucophage is most effective in treating type 2 diabetes. This drug is used to control the elevated blood sugar levels. It is therefore considered as the first-line treatment for type 2 diabetes patients or people who are at an early diabetic stage.
Fortamet is also very effective to prevent kidney damages caused by other medications. People who use the fortamet drug are low risks of limb loss. fortamet also prevents the sexual function problems. It is observed that type 2 diabetes patients who take fortamet daily are less prone to heart attacks and strokes.
In addition to the above benefits of the Fortamet medicine, this drug is very helpful in restoring the body's response to the naturally produced insulin. Fortamet has shown effective results in reducing the amount liver produced sugars and it decreases the absorption rate of sugar by stomach and intestines.
How to use Fortamet – Directions for use
Fortamet or Glucophage is considered effective for treating type 2 diabetes. But the medicine alone can't do trick. Metformin or Fortamet is suggested to be taken with a proper and regular exercise and diet program. In some cases, the patients are recommended to take other medications along with Fortamet.
It is suggested to read the Patient Information Leaflet of the Fortamet. And if you have any confusion regarding its use or direction immediately consult your physician or pharmacist. The medicine is to be taken by mouth on the prescribed time suggested by the doctor.
Usually, the doctors suggest taking the medication once a day.
Before having your evening meal.
People who are taking Fortamet medicine are advised to drink plenty of water and other fluids to keep their body hydrated.
The medicine must simply be swallowed with water. It is not advised to chew or crush the medicine inside the mouth. It is because if the medicine is chewed or crushed in the mouth the drug will be released at once even before reaching the stomach and it might increase the risks of side effects.
Never split the fortamet tablets on your own unless the medicine has a scoreline.
For effective results of fortamet patients are advised to take it daily once a day.
Take medicine at the same time daily.
Keep track of your daily blood sugar level.
How much dosage of Fortamet should be used?
The dosage of fortamat which you need is determined according to your medical condition, your response to the medication and the other medicines which you are taking. The dosage is only to be determined by the doctor. If you are thinking to use this medication make sure that your doctor knows about the other medications which you are using in this regard.
Usually, the doctors start your medication with a low dosage to avoid any side effects and gradually increasing the dose. The dosage is also gradually increased because Fortamet can develop tolerance and at a certain point the specific dose of the drug does not remain effective.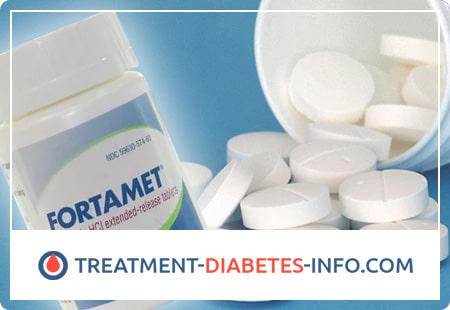 Are there any side-effects of the drug Fortamet?
Fortamet is considered one of the effective drugs in treating type 2 diabetes. It is believed that patients might show few mild side effects of the drug at the beginning of its use. But this drug may not be suitable for everyone.
Fortamet has both withdrawal and usage side effects. Following are some of the warning signs which might need you to stop taking the fortamet medication.
Nausea, stomach upset, vomit, diarrhea followed by weakness.
Bad mouth taste or a metallic taste.
If you are showing the above stomach symptoms in the first few days of your treatment, it might be because of the lactic acidosis. If you are having any of the above symptoms while taking the fortamet medication it might be either because your body is not accepting the medication or these are just the early medications symptoms. In any case, do not resist or delay to tell about your condition to the doctor.
Other severe side effects include severe allergic reactions. These allergic reactions are very rare. but if you are having itching, swelling around the face, throat or tongue, a rash, breathing problem or severe dizziness, immediately rush for medical assistance and consult your doctor. These are the alarming signs of the drug side effects and are harmful.
Sometimes even when the dosage is reduced or changed patients may show the symptoms of fortamet side effects. If this happens or the side effects returns after few weeks of dosage change consult your doctor immediately.
Fortamet and Hypoglycemia
A controversy about fortamet side effects is that this drug can cause Hypoglycemia. Hypoglycemia is a state of low blood sugar or glucose levels. Although fortamet is used to control the increase in blood sugar level the medication does not reduce the blood sugar below the scale.
It is safe to use the fortamet medication in regard to hypoglycemia. But if fortamet is used along with other blood sugar-lowering medications then there is a risk of hypoglycemia. It is therefore advised to talk to your doctor about all your medications before taking fortamet.
If you are using fortamet along with other diabetic medicines and you are observing signs of sudden shaking, sweating, hunger, accelerated heartbeat, dizziness, tingling sensation in hands or feet and blurred vision you might be experiencing low blood sugar levels. If this happens to eat something sweet. In many cases, patients who use fortamet along with other medications are recommended to carry juices or glucose tablets with them.
Is Fortamet harmful to kidneys?
The formula used in fotramet or Glucophage is designed to prevent the kidney damages. The drug reduces the effects of other medications and protects the kidneys from any serious damages such as the formation of kidney stones.
No such kidney damage has been observed so far by using fortamet medicine. But there is a risk of kidney damage for those who take fortamet if the third body is not getting sufficient water and fluids. Therefore patients who use fortamet are advised to drink sufficient amount of water daily. The more the water, the less will be the risks of kidney damages because the water will prevent the accumulation of drug inside the kidney.
Precautions and Preventive measure
Here are the few handy tips and precautions which can help you to avoid the unwanted side effects and allergies while using fortamet medicine. These precautions will not only eliminate the risk of side effects but will also increase the effect of the drug to control the blood sugar levels.
Over-dose: Fortamet overdose can cause faintness, passing out or severe skin allergies. Its overdose might also cause severe hypoglycemia which could be life-threatening. The overdose of fortamet can cause elevated heart rate, short breathlessness, lactic acidosis, vomit, nausea or slow or irregular heartbeat.
Never Share the Medication: it is highly advised not to share your dosage or even recommend the medicine to another diabetic on your own. Always talk to your doctor before taking the fortamet drug. It is not wise to change your dosage without the recommendation of your doctor.
Regular Exercise and Diet Plan: it is believed that walk, exercise, and controlled diet are all very effective in treating diabetes. Therefore doctors advise diabetic patients to do regular exercise and walk. Moreover, the drug fortamet will work effectively if the diabetic person follows a controlled diet. Irregular diet and exercise pattern may disturb the drug effectiveness.
Missed dose: if you mistakingly missed or skipped your daily intake of fortamet, make sure to take the dose as soon as you realize. But remember to take this medication only once a day. If you skipped your medication for a day do not take twice the other day.
Storage: Always store the medication at a room temperature and away from direct light. It is advised to store fortamet other than your bathroom cabinet.